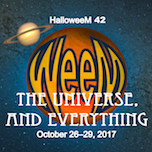 Qualify for discounted WeeM rates by registering today. Book your room by September 22nd and request the WeeM rate of $127. Sign up for the Excursions now!
HalloweeM 42: WeeM, The Universe, and Everything
October 26 – 29, 2017
Program Details*
Title
"Backwards, In High Heels, And A Cape": A History of Women in Comic Books
Description
Comic books have been published in the USA for 80 years, developing a fascinating modern mythology. Loaded with heroes & villains, monsters & miracles, they have both reflected the times & portrayed ageless archetypes. The success of blockbuster movies based on comics has catapulted characters out of their brightly-colored niche into stardom. We'll blaze through a couple dozen Maids of Might & Sisters of Steel, discussing why some have become famous (or infamous). We'll celebrate Wonder Woman, Supergirl, Batwoman, the Black Widow, & yes, Squirrel Girl. Join us for superpowers and spandex!
Presenter's Name
Alan Baltis
Presenter's Bio
Alan Baltis is an alpha geek, an app/website/database developer, author, & speaker. A collector, with 100K+ comic books, magazines, books, puzzles, games, CDs, & LPs. Been to 48/50 state capitols with wonderful M wife Colleen. In Ripley's "Believe It Or Not" for hugging 833 people in an hour. Mensa member for 40 years, in for life. Won on Jeopardy in 2013. Favorite color orange, favorite food deep-dish pizza, childhood hero Doc Savage. Email alanbaltis@thesmartlife.com

, friend him on Facebook!
*Note: The information above is a draft provided by the presenter and may be different in the WeeM Booklet.
---
Deadlines
Registration - Discounts for advanced registration are available through October 12

th

. (Note: Full payment is required by the appropriate deadline to qualify for any discount).
Excursions - Sign up for either of the Excursions before October 12

th

. Since space is limited, the deadline may move up depending upon demand.
Lodging - The hotel is offering a WeeM rate of $127 through September 22

nd

, subject to availability. If the hotel block is full, please contact our WeeM Chair who will try to expand the block.
Follow WeeM on Facebook and Twitter